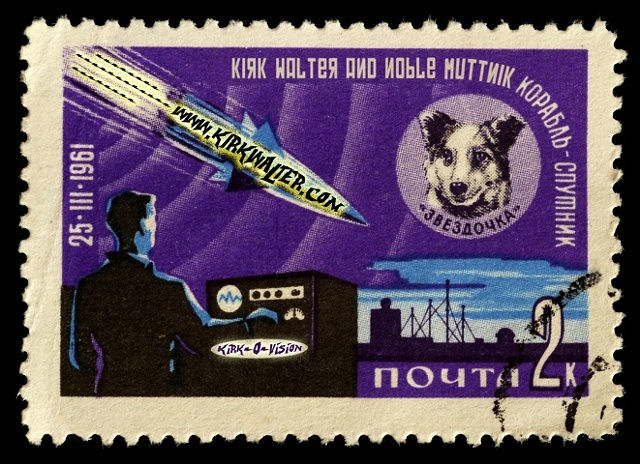 Kirk Walter, and 'Soviet Superdog,' Muttnik, are long-time friends and best companions. They have traveled to the edge of the universe together and share many successes and tribulations in the fine arts of danger and science. Eternally in search of liver-flavored Milkbones and savory hole-in-the wall restaurants, Kirk and Muttnik enjoy a similar taste and vision of the world.
The vision part is how Kirk carves out his living as a producer and director of film, video and new media productions. He has worked on projects worldwide (and indeed around the universe). His broadcast work has been viewed by overseas audiences on Britain's BBC and Japan's TNC networks and domestically on MTV, CNN, NBC and ABC. Kirk was recently in Cuba working on a documentary about peace and economic sustainability.
Kirk and Muttnik are both philanthropists and aspire to donate billions of dollars to charitable causes and organizations. They both conclude that the cabbage will become sauerkraut if they continue to do award-winning work for thoroughbred clients like Apple, FedEx, Target, and 3Com.
Kirk graduated from The School of the Art Institute of Chicago with traveling fellowship honors and has won numerous industry awards and grants. Muttnik has been decorated and recognized worldwide for his courage and goodwill, but was recently shunned by the President of the United States and his administration. Conversely, he is heralded by his fellow countrymen and the Russian Loyal Order of Cosmonauts. Muttnik continues to risk life and limb for liver-flavored Milkbones and the advancement of mankind.
Kirk and Muttnik currently live and work in the San Francisco Bay Area. They are both well fed and have wonderful families that love and support them.
Chtob vse byli zdorovy! (Let everybody be healthy)